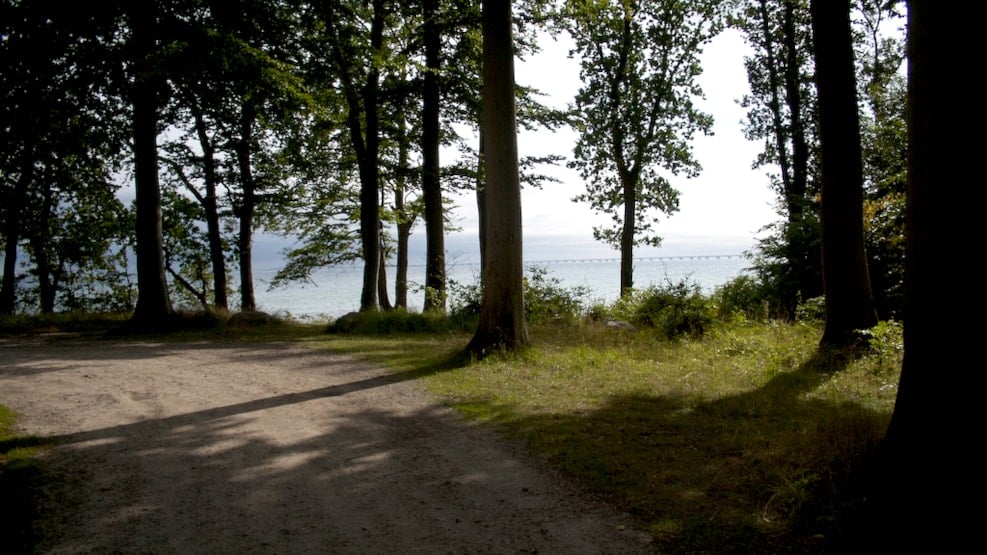 Tilework Forest and Strandhøj (5,5 km)
Everyone heads to "Strandvænget" – or Strandhøj as it's known today. The park with its bonfire pits and play areas borders the beach and woodland. It's perfect for outings, walks and bike rides. There's an MTB trail in the woods, and a lovely long, undisturbed beach.
Teglværksskoven is scenically situated north of Nyborg by the coast of the Great Belt. The wood is 1.5 km long and about 600 m wide. It is not known how old the forest actually is, but King Erik of Pommern donated the wood to Nyborg in 1435. Through the ages, it has provided timber and firewood for the citizens of the town and oak for Nyborg Shipyard.
The first regulation of the wood was made in 1880. The majority of the trees are beech, but oak, ash, alder and conifer also grow in the wood. The oldest beech trees are around 180 years old. Animals such as roe deer, hares and pheasants live in the woods.
By the restaurant in Teglværksskoven, overlooking the sea, there is a high clay bank with a barrow, offering a magnificent view of the island of Romsø and of Hindsholm to the north. A small pavilion once stood on the hill, built in around 1890, when Crown Prince Frederik (later King Frederik VIII) was serving at the garrison in Nyborg.
Following the major fire in Nyborg on the 11–12 September 1797, there was great demand for tiles. A tileworks was therefore built in Kohaven, which was then named Teglværksskoven. The tileworks was situated close to the restaurant and consisted of a large kiln, a small kiln and four barns.
Paths through the wood and a path along the coast take you to Strandhøj, previously Strandvænget, just north of Teglværksskoven.
Strandhøj
Strandhøj is situated in an area of parkland of around 16 hectares, with an amazing view of the Great Belt. The area is open to the public and offers a multitude of outdoor activities. There are areas specially designated for bonfires where you can have a picnic. You can swim from the beach, and there is a mini zoo, sensory playground, etc.
It's a popular excursion destination.