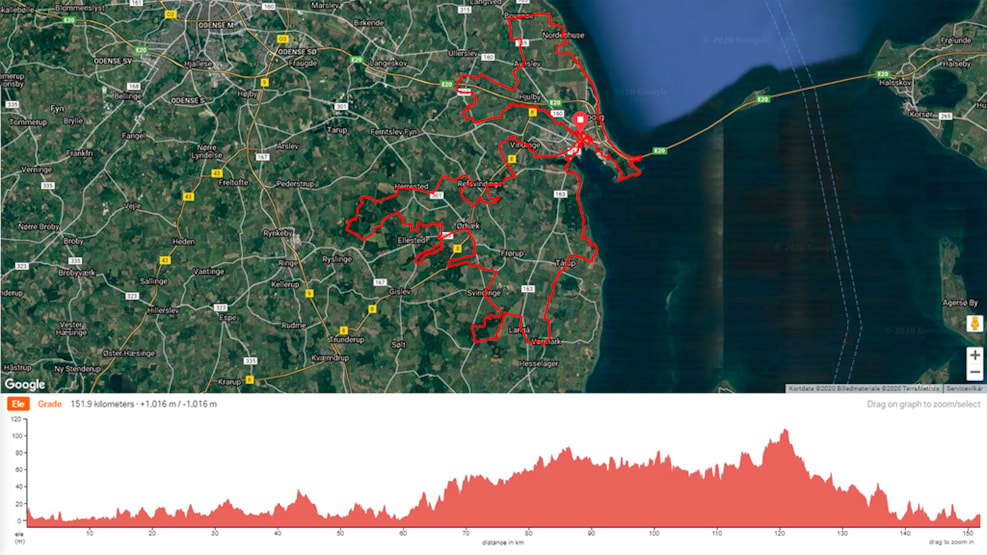 Nyborg Off-Road by Bike
Do you want to drive off-road? OK, granted - there is asphalt, but you can't complete this route anyway. It's too challenging! 
We have been biking and thought to ourselves: "How do we get off-road?" On this cycle route we have combined as much gravel, bog, forest, hills, beach and field as we could get to. When the opportunity arose, we would take a turn to the right instead of following the direct road. And then you ask, "Why?" Our answer is: "Because we can!"
The route here is tough - even tougher than we think you will be able to complete. And if you thought Funen was flat, think again. On this route - we know that part is on asphalt - you get East Funen's only road where there is a road sign with gradient percentages. 8-9% depending on which direction you drive. On this route we take you through the river valleys from the Ice Age, where glaciers have cut their way through the landscape, leaving it both harsh and idyllic. This route takes you through sandy beaches where you will probably want to give up driving. And, depending on the season, Hjulby Mose is a challenge for most people.
Granted - the individual hill is not too hard. The individual stretch is not too long. There is also quite a lot of asphalt, despite our efforts to avoid it. But with 152 km and more than 1,000 meters of altitude, you need a break every now and then. And that's why we think you should also be able to enjoy the view of castles, manors and water mills along the way. Or how about a pit stop at one of the local breweries. We have avoided the main roads as much as possible and have found the small cozy byways where you can hear the birds chirping, and depending on the time of day, you might be lucky to see deer or an osprey. In addition, it is off-road as much as possible.
So we challenge you! Do you dare to face this challenge? Fasten your helmet and get ready on your mountain bike, and be prepared to use the very low gears more often than you expect, even on the "flat Funen" as we say...
We offer you a little help if 152 km and more than 1,000 meters of altitude are too much...:
The northern loop is only 55 km and it is the flattest part of the trip. Conversely, this is where you come across the beach and marsh. So don't be fooled. The degree of difficulty is high. Technically, the route is not terribly demanding. You just have to pedal around, but you will do it so many times that it will probably become hard and therefore difficult. Yet, we know that you appreciate biking in nature, on small roads and finding your way yourself. This is why this route is just right for you.