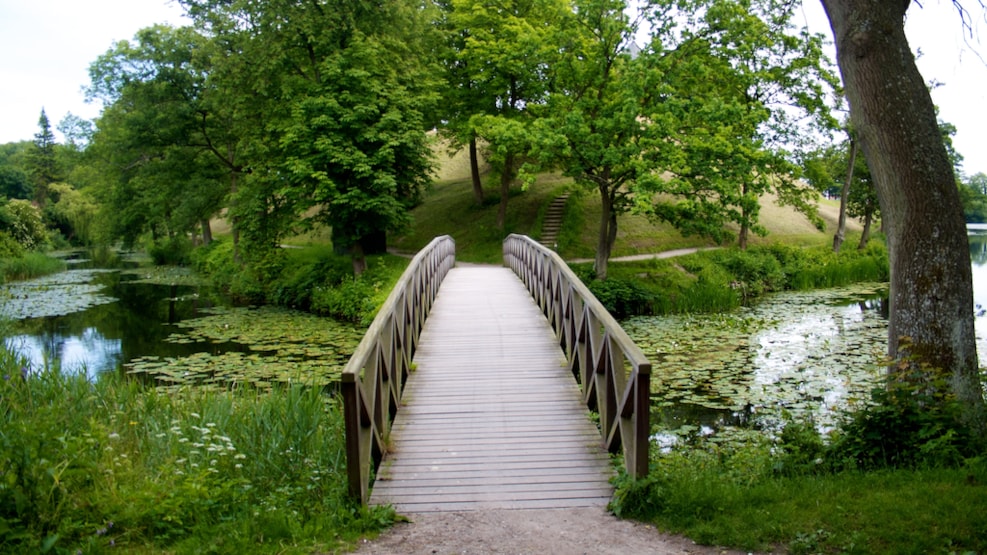 Ladegård Forest and Nyborg Rampart (3 km)
If you are to experience one place in Nyborg, it's the entire area around Nyborg Castle. The historic ramparts and moats surrounding the red-bricked castle. Immerse yourself in the history. Feel the buzz of times past and make your way around the historic town centre – we guarantee that you'll fall in love with Nyborg.
Nyborg Castle has been a favourite residence of the Danish Kings. After the Swedish Wars in the 1650s, it was extended into a fortress with a system of embankments and large bastions, the remnants of which still can be seen. On the Queen's Bastion, there are four 18-pound model 1753 cannons, and two 84-pound system 1834 heavy grenade cannons, made according to original drawings from the Royal Danish Arsenal Museum.
It was not possible to dig wells in Nyborg, so water had to be brought in from outside when the town grew up around the fortress some 800 years ago. From the stone bridge built on Ladegårdsvej in 1834, you can see Ladegårds Å river running through the bottom of a narrow tunnel valley formed during the Ice Age. Many years ago, the water from Vindinge Å river was diverted so that it ran to Nyborg via Ladegårds Å river. This provided the town with drinking water, water for the castle mill and water to fill the moats around the fortress. A low dam, forming Ladegård Sø lake, which abutted the fortress, blocked the mouth of Ladegårds Å river, which opened into the fjord.
Walking westwards along Ladegårds Å river path, you will reach Hjulby Sø lake and moor.
On the south side of Ladegård Sø lake lie the remains of "Ladegård Forest", which was once the castle's deer park. The remaining old oak trees are all protected.
If you walk from Nyborg Castle through the gate under the ramparts, you have the wide moat, Kamgraven, in front of you. On the opposite bank, the water flows in from Ladegårds Sø lake. A channel leads the water under the gates into Slotssøen (the Castle Lake).
If you walk back through the gate and along the path towards Torvet (the town square), you will see the waters of the lake flow under the bridge along Slotsgraven to the library peninsula and then in the opposite direction in Møllegraven, along Slotsgade, past Torvet and through Slotsmøllen (the Castle Mill). The drinking water for the town was led from Møllegraven via channels made of hollowed tree trunks into basins, where the town residents could pump up the water.