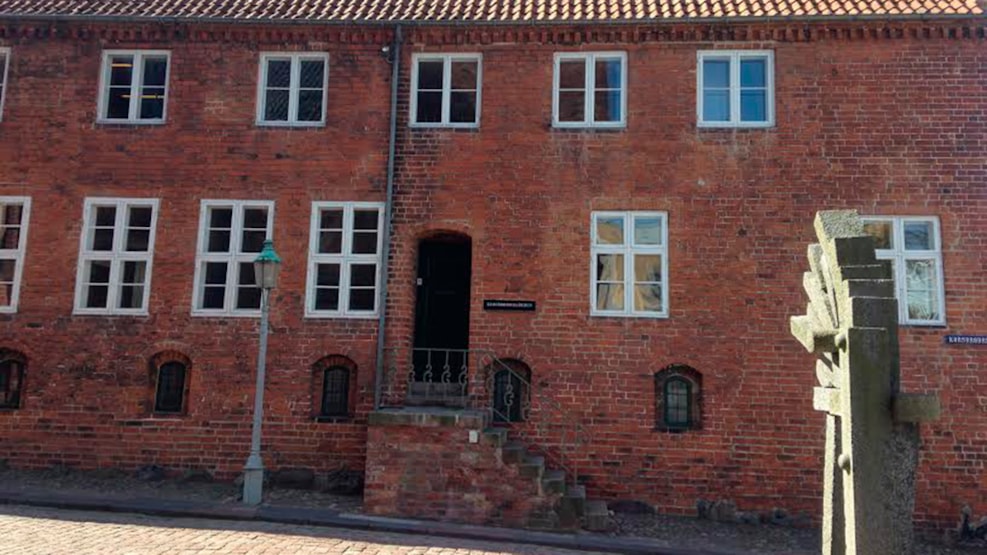 Korsbrødregården in Nyborg
2 Korsbrødregården
Unlike many other market towns in medieval Denmark Nyborg never had a monastery. The town, however, had a foundation of the Korsbrødre (whose monks wore black robes with a white cross, hence the Danish name "Brothers of the Cross" – a branch of the Order of St. John in Antvorskov on Zealand. Some brothers of the Order of St John lived in the building, but it is not known whether it functioned as a monastery, and there was no church. Nevertheless, it was an important building for the order.
Their fine brick building on the corner of Adelgade and Korsbrødregade is one of the oldest preserved houses in Nyborg. The corner house with the two vaulted basements probably stems from the 14th century. In 1614 the house was enlarged with the two storey building facing Adelgade. The complex had then been taken over by Alderman Anders Hansen Scheffer, who added the coiled gables that now adorn the whole building.
In 1650 Korsbrødregården was extended eastwards by the then owner, Alderman Jens Madtzen. The courtyard facade was originally halftimbered, but is now brick like the street facade.