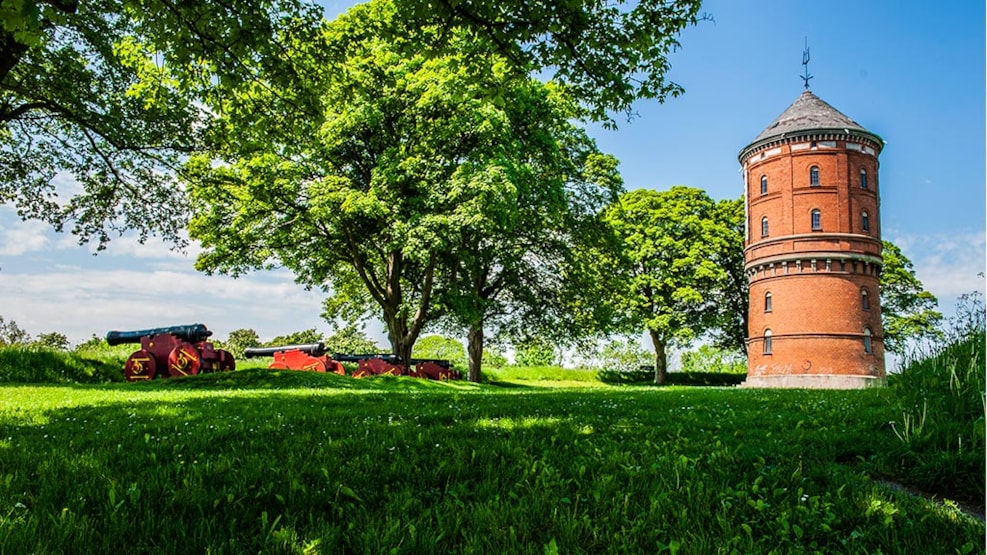 Art exhibitions in the Queen's Watertower
During the year, the water tower is open and this is your chance to see the local artists exhibitions. Find the next exhibition below.
The artists in the Queen's Watertower are mainly artists and craftsmen from Nyborg and the surrounding areas. During the season, the exhibitions represent a selection of works across the entire municipality. All forms of art are exhibited and very different creative and artistic processes are ongoing.
Exhibitions in the Queen's Watertower
Week 39 - Available
Week 40 - Available
Week 41 - Available between 10 October to 13 October
Week 41/42 - Kasper Holm Jensen's exhibition 'He he'
Vernisage on 14 October between 17:00 and 19:00. Otherwise open from 15 October to 22 October from 10:00 to 15:00 (or by appointment via email: kaerlighilsen@gmail.com)
About Kasper Holm Jensen and the exhibition: The exhibition consists of a series of tall oblong frescoes, which deal with themes of, among other things, scheming and fraud - based on Nyborg's old history and today. The art works are created by artist Kasper Holm Jensen. Kasper was born and raised in Esbjerg. He moved in 2021 with his family from Copenhagen to Tårup on Funen. Kasper is educated at the Royal Danish Academy of Fine Arts and has exhibited at home and abroad, most recently in Skagen at the exhibition venue SKAL Contemporary.
The artist's story about the exhibition: Beneath the surface in the old Nyborg, under the stones and ramparts, low-pitched echoes from voices longing for justice - and voices that differently desire eternal ignorance and concealment - are cast back and forth between old roots and ancient sediments. Voices that resonate on the surface of their corrupt community. The one who did the wrong and the one who was betrayed. Scheming, cheating, fraud and power - a power lived out and often hidden. The exhibition 'He he' is a scene set about power games and secret agendas - a 'whodunit' - woven together by our past and present. A disgruntled customer once wrote online  'Not original. Fake. Poor product quality. Poor service by seller', to which the anonymous seller replied: 'He he'.
Meet the artist
Common to all exhibitions in the water tower is that the artists themselves will be present. In addition to looking at beautiful, exciting and inspiring art, you can also have a chat with the person behind the individual works. At the joint exhibitions, the presence of the artists is distributed over the entire opening.
Nyborg Water Tower
The water tower stands on the Queen's Bastion and many years ago ensured the water supply for the entire city. You can get all the way to the top and look out over the historic Nyborg Rampart. The water tower dates from 1899 and is listed.