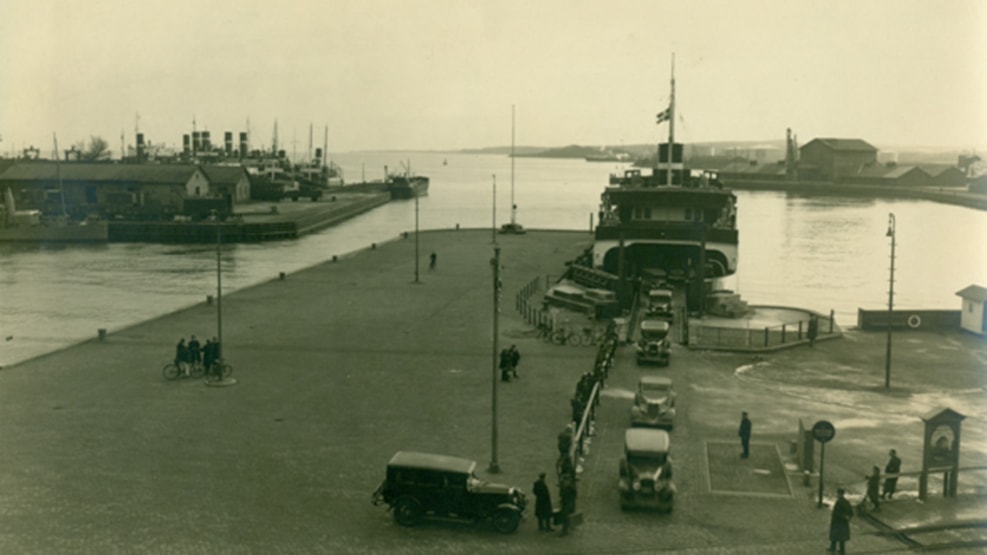 7. stop: Den blå Kløversti - The Center Pier and the Ferry Port
In 1548, Christian III decided to replace the city's modest ferry bridge at the end of Færgestræde with an actual ship bridge. The establishment of the ship's bridge was part of a larger project to transform the area into a stately arrival point for the king and his large entourage.
As part of the effort, Færgestrædet was expanded into an actual procession square. However, the first extension was not large enough for the king's horses and carriages, and already in 1551 Færgestræde was widened again, creating Adelgade.
The King's Ship Bridge
In 1752, a new bridge was built as an extension of the ship's bridge. The new bridge was named Byens Bro (The City's Bridge) and after a series of extensions and changes, the place eventually became known as Midtermolen (the Center Pier). In 2015, it was decided to rename Midtermolen to Kongens Skibsbro (The King's Ship Bridge), and around it the the new harbor grew. In 1823 Østerhavnen (the Eastern Harbor) was constructed, and in the years 1852-1856 Vesterhavnen (the Western Harbor) was established. West of this, the fishing and yachting harbor arose in the late 1920s, and several extensions followed. In 1973, the inner part of Vesterhavnen was completely full in connection with the construction of a roll on – roll off port.
East of Østerhavnen, a pier was built in 1872 for the Great Belt steamships. The pier was later named Tyrmolen after the icebreaker named Tyr, which where docked here.
The 19th and 20th centuries saw many changes in regards to means of transport, which have helped shape the appearance of the port. One example is the Nyborg-Odense railway line, which was inaugurated in 1865.
The ferry port was also expanded in the years 1892, 1910, 1933 and 1953, and thus consisted of five ferry docks from the mid-1950s.
The role of the rail ferries was played out when the Great Belt Bridge opened to rail traffic in 1997.
Car Ferry
The number of motorists increased significantly during the first half of the 20th century and motorists wanted to take the car across the Great Belt. In the beginning, the cars were transported with the railway ferries, but in 1930 a completely new car ferry port opened at Midtermolen in Vesterhavnen, and the car ferry Heimdal began its first of many trips on the Nyborg-Korsør route. Eventually the car ferries in Nyborg and Korsør could not handle the ever-increasing number of cars, and in 1957 a new car ferry port was put into use at Knudshoved.