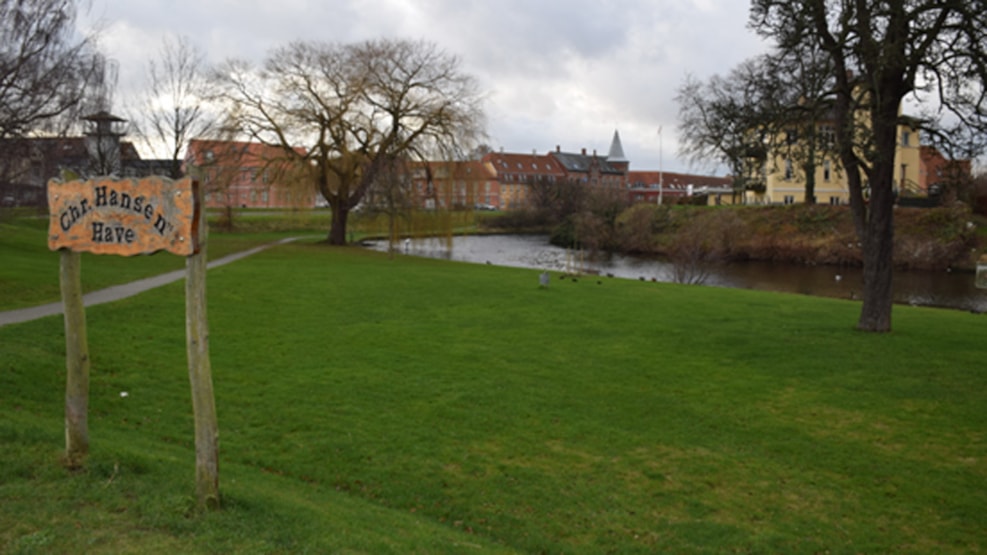 1. stop: The Blue Clover Path - Christian Hansen's Garden
The first stop on the Blue Clover Path takes you through Christian Hansen's Garden. Today, the garden functions as a public park near the moat.
The story of Christian Hansen's Garden
Auditor Bejrre built Villa Solhøj on what today corresponds to Nybrogade 2 after the rampart was removed at Prince Frederik's Bastion in 1876.
The garden that belonged to the villa was on the other side of the moat. Auditor Bjerre subsequently built a bridge over the moat in order to connect the villa and the garden.
The villa with garden changed owners several times after Bjerre's death in 1910 and in 1924 K.F.U.K bought the villa but not the garden, and the bridge was therefore closed. In the same year, truck driver at DSB Christian Hansen bought the garden and planted it with birch trees at the entrance and fruit trees in the garden itself. When Christian Hansen died in 1936, Nyborg city council decided to buy the garden from the widow and the garden has subsequently been converted into a public park.