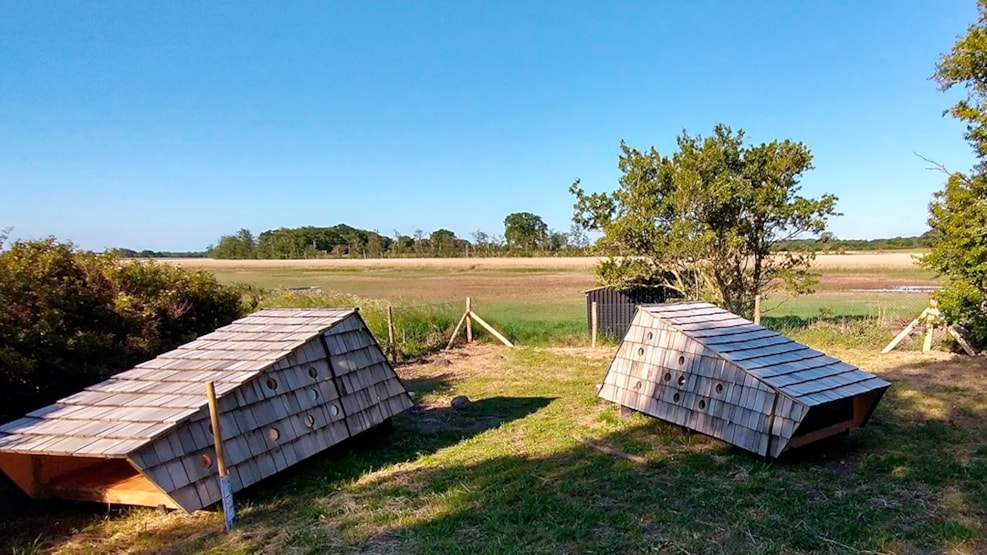 The Shelters at Kauslunde Å River
Sunset over the meadows and stream with the Great Belt Straits in the background This site is a great place for anyone who wishes to be active in the natural environment.
Kauslund Å River forms the border between Nyborg and Kerteminde municipalities. The river flows through meadow after meadow on its way out to the Great Belt. This shelter site has an awesome view to the west. This is an ideal spot for enjoying the sun setting over the meadows and stream with the Great Belt Straits in the background. The meadows along the coast are a wildfowl habitat, so this small, open shelter site is popular with birdwatchers. 
The shelter site comprises two architect-designed Flounder-type shelters with access to primitive toilet facilities and a fire pit with a barbecue grill rack. Bring your own firewood. 
There are many bathing beaches along the Great Belt coast. The beach here is pebbly and if you wish to take a quick dip in the sea, we recommend that you enter the water at at least 50 metres to the south of the shelter site. This way you can ensure that you are about 200 metres from the river estuary. There is always a greater risk of bacterial pollution at an estuary. However, provided that you remain at a distance from an estuary, the Great Belt Straits are known for clean, fresh sea water that makes bathing here a great pleasure. When you walk from the shelter site to the beach, please note that you must cross a road. Watch out for traffic!
You may be tempted to sail on Kauslunde Å River, especially if you have a kayak. Please resist the temptation. Sailing on the river is prohibited. Similarly, angling is prohibited by law within a distance of 500 metres on both sides of the estuary. However, Risinge Hoved, a point at a short distance to the south of the shelter site, is an excellent fishing spot, especially if you are hoping to catch sea trout. There are many excellent fishing spots along the Great Belt Straits coastline, where you can fish for garfish, mackerel, flatfish, cod, etc., in season. Catch a fish for a dinner and cook it in the fire pit at the shelter site. Great idea! 
The shelter site at Kauslunde Å River is part of the Blue Landmarks shelter scheme, funded by Danish state rural development grants. The shelters in the scheme are all at coastal locations. The idea is that visitors can stay overnight in shelters all around the island of Funen. This shelter site is operated and maintained by Nyborg Municipality. 
To learn more about and book this shelter site, click on the link or visit bookenshelter.dk.