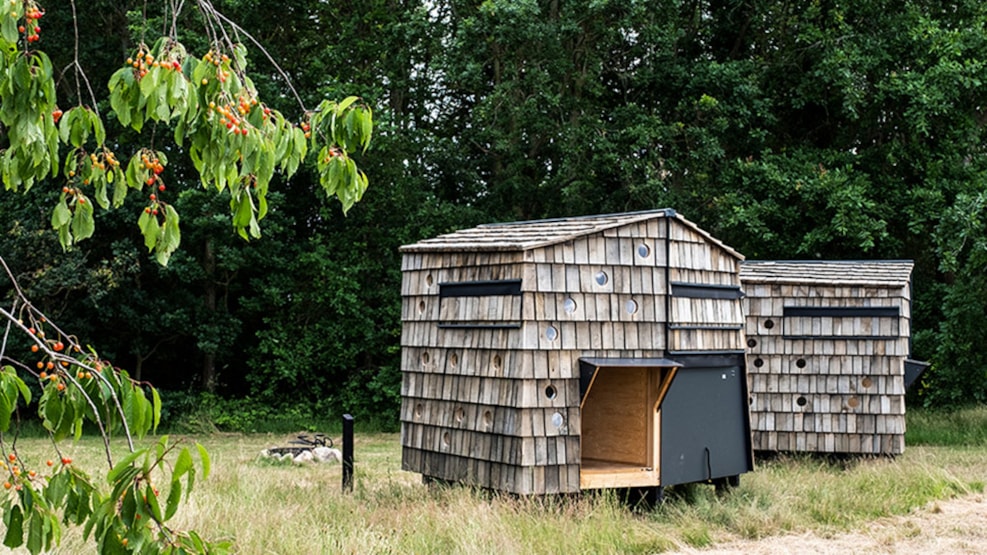 The Shelters at Grønnehave
There are great views of the Great Belt Bridge from the pretty little beach nearby. Cook dinner on an open fire at coastal Grønnehave.
Grønnehave (translates "Green Garden") lies to the north of Nyborg. The name pays homage to the verdant landscape here where the land meets the alluring azure blue of the Baltic Sea. There is a campsite and a beach here, both fittingly named Grønnehave. 
The shelter site in this area of outstanding natural beauty comprises three shelters – a two-person Flounder-type shelter and two Lumpfish-type shelters (each sleeps 4-5 people). There is a handicap-friendly toilet close to the shelter site (open only in the summer months) and visitors are welcome to fetch water from the toilet building. There is also a fire pit with a barbecue grill rack. Bring your own firewood.
The shelter site is secluded. There is no noisy traffic and yet it is so easy to get to. From the beach there is a a great view across the sea with the Great Belt Bridge in the background. This is a great spot for bathing, fishing and kayak. If you are travelling on two wheels, cycling route no. 40 Nyborg - Kerteminde runs past this shelter site. The beach is a narrow, natural beach. There are ample opportunities to engage in outdoor activities all along the coast. 
There is a small store at the nearby campsite, where shelter guests are welcome to shop. Other campsite facilities, e.g. showers, toilets, playground, etc. are not open to shelter site guests, These facilities are only available if you book accommodation at the campsite itself. 
The Grønnehave shelter site is part of the Blue Landmarks shelter scheme, funded by Danish state rural development grants. The shelters in the scheme are all at coastal locations. The idea is that visitors can stay overnight in shelters all around the island of Funen. This shelter site is operated and maintained by Nyborg Municipality in partnership with Grønnehave Strand Camping campsite. 
To learn more about and book this shelter site, click on the link or visit bookenshelter.dk. 
Grønnehave Strand Camping campsite
Grønnehave Strand Camping campsite is right next to the shelter site. The campsite's facilities are not available to guests staying at the shelters.
Shelter guests may use the following campsite facilities at an extra charge:
Shelter guests are welcome to shop at the campsite's Mini-market.
You must contact the campsite directly if you wish to use other campsite facilities or need accommodation in addition to the shelters, e.g. if you wish to erect a tent or rent additional chalets, etc.