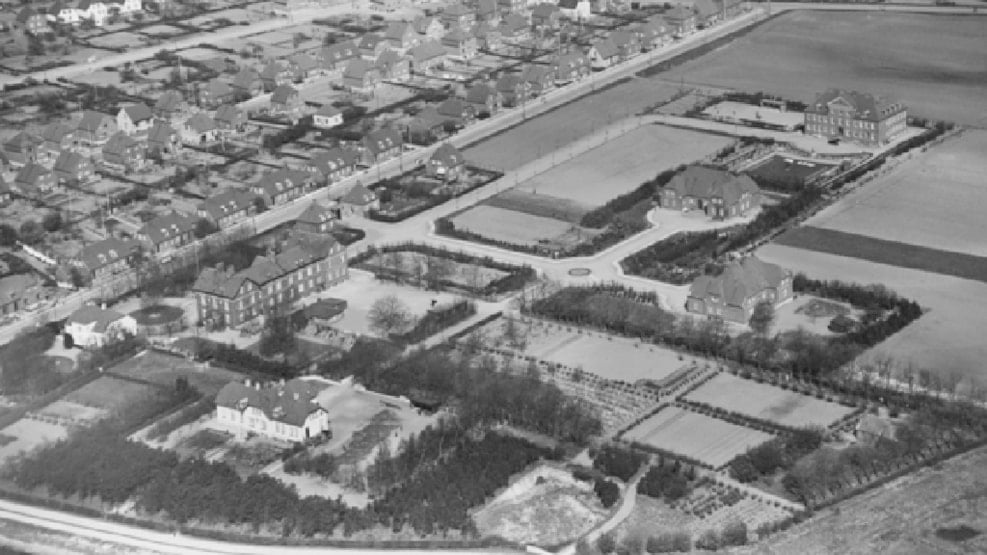 5. stop: The Blue Clover Path - The Children's Hospital
A children's hospital was built in Nyborg in 1932 and is often referred to as the first of its kind in the world. Here one could observe and treat children for epileptic and epilepsy-like diseases.
The Epileptic Home
In 1898, the home for epileptics and the deacon's school were established on over two acres of land behind the truckers' fields at Provst Hjortsvej. It opened in 1899 and over the years the special care complex grew with ten buildings.
The school house (A) was built in 1898-1899 and extended in 1905 and 1926 by the Nyborg architect August Colding. In 1905, the deacon training and the epileptic home were split and afterwards the institution was called the epileptic home in Nyborg. In 1909 a hospital was added (B), in 1913 a ward for smaller boys (C), in 1915 a ward for severely mentally impaired patients (D), in 1921 two residences for janitors and housekeeping teachers (H and I) and in front of them in 1923 the impressive entrance portal to the entire complex. In 1930, a teacher's residence (J) was added and finally in 1932 (E) the children's hospital was built. A fully modern equipped hospital ward with 44 beds, where children from infancy could be observed and treated for epileptic and epilepsy-like diseases. It is often referred to as the first of its kind in the world.
The construction took place at a time when Nyborg was really about to rapidly expand after the fortress was demolished, which had otherwise lain like an iron ring around the city. Craftsmen's association, citizen's association, water works, gas works, electricity works were established on or just outside the old ramparts. At the same time, the epileptic home stems from initiatives with a focus on better welfare, hospital services and care for the elderly, which were also up-to-date and which were reflected in Nyborg with the establishment of nursing homes, hospitals and other welfare institutions.
The Hills behind the Kindergarden Tumlebillen
The large hills behind the kindergarden called Tumlebillen facing Nyborg Fjord can be used for both play and mountain biking. The hills are steep enough to challenge mountain bikers and can inspire good play and movement for children of all ages. There is a nice view out over the fjord from the hills.