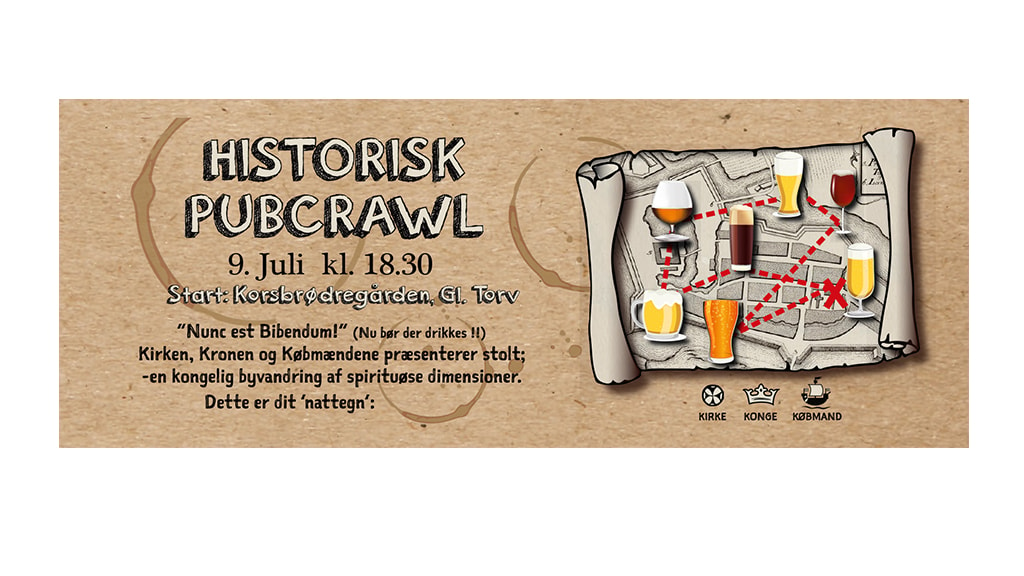 Historical pubcrawl at "Danehof" in Nyborg
Join us at the historical Pubcrawl, go from place to place and taste goodies while getting a good story.
One of the special privileges of the City Council during the Renaissance was the monopoly on the wine trade. However, there were also special duties, such as once a month going to each other's wine cellars and checking the quality of the wine. To "Danehof" you can take in a historic pucrawl to the town's old grocery stores and historic houses, where beer and spirits are tasted, but in return the trip is spiced up with lots of exciting and fun stories.
We are having fun, but seriously
The mood at the end of the tour certainly leaves nothing to the Renaissance wine control. Not at all if you get a taste of it all. In turn, it is also serious storytelling. You experience the town's farms and history in a new way and with other, but no less authentic tales. Of course, you also get to know much more about what you drink.
A pub crawl that goes into history
At the Historic Pub Crawl King and Merchants are invited to a cultural and civilized 'structure' of generous dimensions. As a participant, you visit places where the audience normally does not have access. The start is in the monk cellar under the Crossbread Farm, then Frederik Nielsen's Grocery Farm is frequented and later visited 'The Merry Girls' Farm!'
The last stop will be the Mayor's edition of 2019. Along the way, there are 8 items to drink, distributed on four local beers and 4 'sidecars' all with a history !!! - to mitigate the effects of fluid intake, again this year, a royal sausage food is served. In other words, there is 'something to the senses', also the hearing sense is challenged, as Kirstine, Mille, Holger & the wife along the way 'the structure' erupts in shabby discretion.